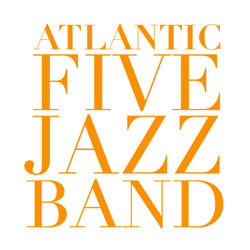 Atlantic Five Jazz Band – this is the band, that performs on the famous "Bar Music Moods" album series and other cool series like the re-mastered editions of "Bar Jazz Sessions" and "Bar Jazz Masters".
A combo, that loves to play all the famous old and modern jazz standards, which everybody likes to enjoy in a relaxed atmosphere. Music which enriches a cocktail party or a high-class dinner as well as a romantic evening sitting by the open fire, while tasting a good old wine.
The bandwidth of all Atlantic Five Jazz Band releases ranges from great bar music & bar jazz, played by the whole band, to dignified bar piano sounds played on a solo instrument. Also the band's saxophone section, featured as Atlantic Five Sax Department, has contributed its own album.
There are also special editions of the "Bar Music Moods" series available, like the Latin & Bossa Edition, a Romantic Dinner Edition, the "Smooth Hits on Sax" concept album or various Christmas editions containing famous and well-known bar jazz Christmas tunes in a bar jazz and bar piano style.
All releases are available in established download stores and on popular music streaming services.